Markusen Metal Studios
40
Years of
Distinctive American Metal Art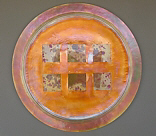 ---
Markusen Metal Studio's signature designs include copper and brass candleholders, vases, bowls, mirrors, plates (Tondi)-- both standard and wall hung, limited editions, furniture, and architectural commissions. His body of holloware, says Markusen "serves a functional need for today's art-conscious society."
---
Markusen and Studio
The ability to treat red-hot metal as a fluid medium to be shaped and formed like pliable plastic continues to fascinate and challenge noted metalsmith Thomas Roy Markusen. From the time he first experimented with steel tubing more than 30 years ago, the trained silversmith has brought an excitement, color and drama to holloware that previously had been associated with glass and ceramics. "People hadn't thought of metal that way," Markusen says. All of the work is free-formed, without the use of molds or dies.
Working with copper tubing and other metals allows him to combine his training in silversmithing with his years, 1970 - 1976, as a blacksmith. "All of the shapes that I had worked with before in silver I could work with in copper," he says. "Copper could be forged while it was red hot; silver could not be."
A reactive metal like copper that can be heat oxidized into a rainbow of colors or changed with acid and salt gives him an unlimited palette to create rich patinas and draw on his background in painting. "I've always loved color," says Markusen, who is continuously working with new patinas for finishes.
Excerpts from American Style Magazine, Fall 1997
---
Contact Information
Electronic mail
General Information: Studio

---